Professor Francois Candide

Francois, as he appears in Vanquish.
In-Game Information
Full name:
Francois Candide[1]
Alias/es
Professor
Candide
Affiliations:
DARPA, USA[1]
Occupation:
Chief Researcher at DARPA[1]
Nationality:
Unknown
Misc. Information
Gender:
Male
Age:
49[1]
Current status:
Deceased
Behind the Scenes
Voiced by:
Benito Martinez
Appears in:
Vanquish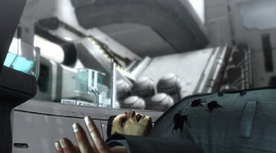 Professor Francois Candide is one of the main characters of Vanquish. He is voiced by Benito Martinez.[1]
As chief researcher of DARPA, Candide originally proposed the idea of the space colony, as well as the design for the new energy system, later weaponized by the Russian Star[1].Feeling responsible for the annihilation of San Francisco, Candide takes it upon himself to shut down the energy system personally. Before leaving, he left Sam Gideon a message, warning him about a mole working from the inside of the government.[1]
Candide collects data on the Augmented Reaction Suit, while Sam's testing it out. He was killed by Burns under the order of Elizabeth Winters so Burns can target the Microwave Energy Array to Moscow.
Stay sharp, Sam.
Sam! Where are the Marines?!
Thank god! I stopped it in time!
Candide was featured in the demo of Vanquish.
It is quite possible that Francois Candide is from France in nationality, as it is the french equivalent to the english name Francis, and a meaning of the name Candide in french is "bright".
Notes and references
Edit