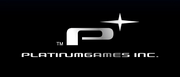 Platinum Games, Inc. is a Japan-based independent video game development company. It was founded under the name Seeds, Inc. on August 1, 2006 by Shinji Mikami, Atsushi Inaba and Hideki Kamiya, the former key members of Capcom's Clover Studio and still retains many other former members of the studio.
They are perhaps best known for their release of the game Bayonetta. They are currently developing Vanquish which is set to release Winter 2010, which is set to be published by Sega.
External Links
Edit
Ad blocker interference detected!
Wikia is a free-to-use site that makes money from advertising. We have a modified experience for viewers using ad blockers

Wikia is not accessible if you've made further modifications. Remove the custom ad blocker rule(s) and the page will load as expected.