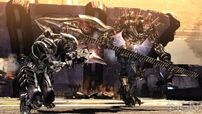 Another enemy considered a mini boss in Vanquish. It is very dangerous
because of its attacks and the ability to fight on either its hands and legs or just its two legs. When on its hands and legs, its shoots at Sam and also swings with its tail. On just its legs, it detachs its tail and swings it violently when near.
They are only three to fight in story mode. The first one is in Act 2-6 Stronghold. The other two appear in Act 4-2 Brink. In terms of weapons, an upgraded LFE gun is your best bet.
Ad blocker interference detected!
Wikia is a free-to-use site that makes money from advertising. We have a modified experience for viewers using ad blockers

Wikia is not accessible if you've made further modifications. Remove the custom ad blocker rule(s) and the page will load as expected.